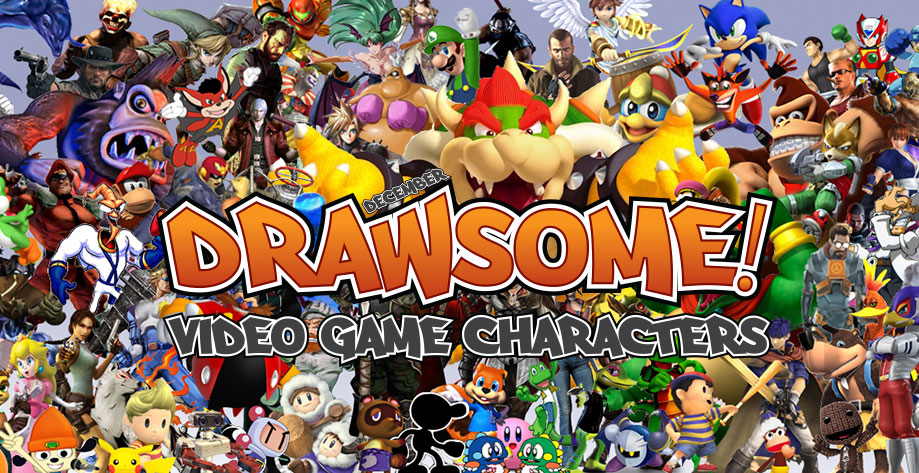 Firstly, I just wanted to say a big HAPPY NEW YEAR as I welcome the awesome ToonsAnimeManga club to 2014. I couldn't think of a better way to kick off 2014 then with the always amazing and inspiring results of Drawsome! Today I'm incredibly lucky to be able to show off the results from the December theme which was Video Game Characters!
I have to confess, I'm a total NERD! I absolutely love video games and in particular some of the artwork for this month's Drawsome! brought back some awesome memories of my childhood years. This month I think I changed my mind, maybe three or four times, on who I was going to draw because there are just so many kick ass characters that have inspired me over the years.
This month sees us welcome a few new participants for Drawsome! as well as see some returning entrants from November. Most of all I thank everyone for participating in Drawsome! and I really hope you're having as much fun as I'm having with you guys! Last month in fact, I was so busy that my entry for Drawsome! was a great opportunity for me to tell myself that it was time to sit down and Draw Something Awesome! Sometimes you need a kick to get you started.
There is still time to submit your theme suggestions for January and remember that January is going to be extra special because from this month onwards I'll be offering a prize giveaway to one lucky person each month!! Make sure you check back in here and on social media to find out more of those details coming your way soon!
Without further delay let's take a look at December!
Sephiroth – Josip Ljubić / PhoBoss
Borderlands – Jesus Martinez
Elizabeth (BioShock) – India Hughes
Cloud Strife – Byron / ToonsAnimeManga
It Just Keeps Getting Better!
So there you have it, what did you think? However there is no time to rest because it's already January and we need to start thinking about our Drawsome! for this month. It's amazing that after one month I can already see the progression and improvement from the returning artists and I can't wait to see what everybody comes up with for January.
If you're out there and you want to get involve then make it your New Year's resolution to get involved with Drawsome!
Remember to share Drawsome! with your friends and family and let's do our best to get as many participants as possible. I hope you'll share these post with your friends and family and highlight how much fun you're having while drawing with other people!
Like I always say it doesn't matter how many videos you watch or how many books you read, the single biggest difference that will come to your artwork is PRACTICE! Practice makes perfect and that's why Drawsome! is the perfect opportunity to get some practice in while getting to know some awesome people at same time.
Don't forget that if you're stuck with your artwork or need some help then create your own post in the community forums and let us all help you out. The only stupid question is the one that doesn't get asked so don't be a fool and make sure you make the most out of everyone around you!
Alright that is it from me, I'm out! Thanks everyone!
Game Over!
So tell me, which Drawsome! is your favourite and why? Please leave your comments in the comment section below.