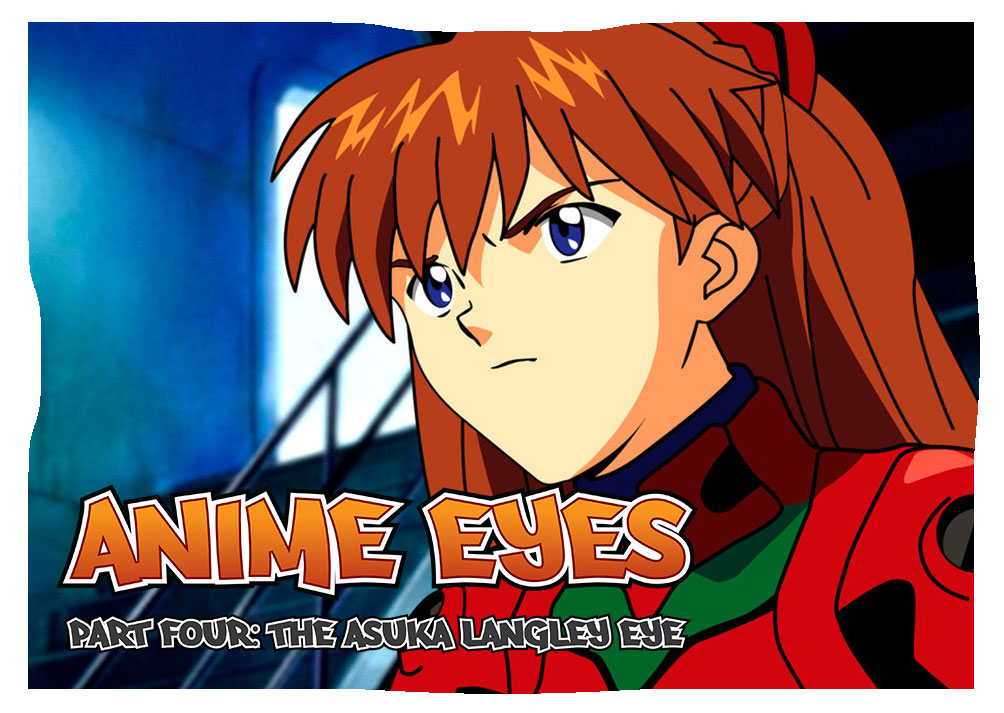 We've finally made it! Surely you must be sick of learning how to draw anime eyes by now? What's that? You still want MORE! Well I'm glad to hear it and it's great to have you back for the final part of the how to draw anime eyes series. Part Four will be focusing on the eye of Asuka Langley from the popular Anime series Neon Genesis Evangelion.
I've had so much fun putting this series together and I was really happy with some of my own artwork that came about from creating the tutorials. For part four however I decided to go one better and this time my tutorial will be in the form of a video tutorial on YouTube. If you're a fan of the Facebook page or Twitter then you might have seen it already but if you're not then make sure you subscribe to my channel because there is a whole lot more awesome coming your way.
As this is my first narrated video on YouTube I'd really appreciate your feedback on what you do and don't like. I want to make sure that you guys are learning and gaining value out of listening to my videos. So let me know any honest feedback you have and I'll be sure to take on board any improvements for the future.
The Highlight Reel
As we've done in the previous parts let's take a quick look at the highlight reel of Asuka. Please note if you haven't seen the series then there is always the potential of spoilers so watch this video with that in mind. The video shocked me to hear Nickleback playing, which doesn't seem to fit for an anime series, but overall I think the video is nicely produced and worth your time to watch.
The Series
Alright my fellow Anime maniacs I want to make sure that you don't miss out on the awesome content we've had so far. As mentioned today's tutorial is part four of the four part series on how to draw anime eyes. This means that if this is the first tutorial you've seen so far then you're going to love it when I tell you that you have another three more tutorials to go through.
Make sure you go back to the previous four parts and check each of them out because they each have different tips and tricks you can learn and I try to explain things in different ways so you find a way that make sense for you.
How To Draw Anime Eyes: Part 4
So here it is guys, my very first narrated YouTube tutorial starting with Part 4 on How To Draw Anime Eyes. This video contains everything I've taught you in the previous 3 parts however this time you get to watch me do it! If there is anything you didn't understand through the text based tutorials you'll now be able to see the exact way that I created these eyes.
I hope you guys like the video it and be sure to provide me with any honest feedback you have and I'll improve it in my upcoming videos. If you're a frequent user to YouTube then please subscribe to my channel so you don't miss out on new videos updated in the future.
Let's get started
It's Time To Level Up
Whoa! I can't believe you made it through all four parts. I've no doubt that if you did do that then you will have taken your artwork to a new level. If you're using Photoshop then you should have the tricks you need to get the job done. If you're not using Photoshop however then I hope that you can still take away the key elements and apply them to your own software program.
Each of the steps in the video can be completed through any drawing software however you may not have some of the features I spoke about within today's tutorial. Make sure if you've got any questions about anything that you head over to the community forums where people are there to help you out.
I've got a few ideas for the next series of tutorials that I'd like to create but I want to hear from you.
What would you like the next series to be on? Make sure you leave your comments below
Once again if you haven't signed up to my newsletter I'd really appreciate if you could take the time to sign up. As soon as you sign up you gain access to my Free Ultimate Digital Art Cartoon & Manga Starter kit which will have you leveling up your artwork in no time at all. Just click on the button below and submit your details, it's that simple. Oh and one more thing, we promise we won't spam you!
[hero heading="Join ToonsAnimeManga (It's Free) " tagline="Sign up and get access to the ultimate digital art cartoon and manga starter kit, including the Drawing Anime Eye Photoshop File, and free Blog updates too."][modal heading="Join ToonsAnimeManga (It's Free)" text="I'm In" size="btn-large" variation="btn-danger"][/modal][/hero]