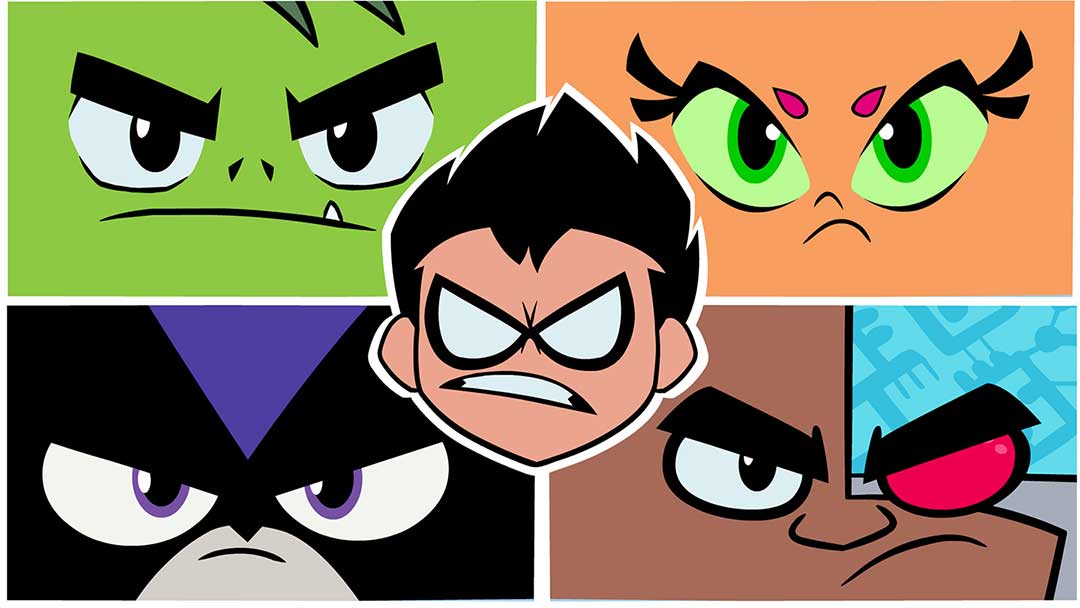 What time is it? Go! Go! Go! It's time to learn how to draw Teen Titans Go, that's what time it is! A number of posts ago I spoke to you guys about how I wanted to get my own YouTube channel started and I'm happy to announce that my channel is moving full steam ahead. My first video was for Part 4 of the Drawing Anime Eyes series so if you haven't seen that you can check it out here.
After my first video I was hungry for more and decided what better then learning how to draw Teen Titans Go! and creating a video so everybody else could learn too! Some might debate that they love Teen Titans more but I love the simplicity and the artistic style of Teen Titans Go! For such little characters each of them packs their own individual attitude and life and that's really fun when you're learning how to draw Teen Titans go!
This is the absolutely ultimate guide for learning how to draw Teen Titans Go, at least for the good guys, so please share with with your friends and have fun drawing these guys together! I had a blast and I'm sure you will too! If you love this post then make sure you comment below and if you want to see me draw the bad guys then sing out and I'll make sure I do that for you.
Go! Teen Titans, Let's Go!
When learning how to draw Teen Titans Go it's important to get yourself in the right frame of mind. Now come on seriously who doesn't love this intro. I love the theme song and the opening intro for Teen Titans Go! It captures my attention every time and I feel like I could have it on repeat and still not get sick of it. In fact that did happen to me as one YouTube video literally repeats itself for ten minutes……I did get a little bit sick of it, I'm not going to lie.
How To Draw Robin Teen Titans Go!
Robin is the perfectionist leader of the Teen Titans and his main complaint is that the other Titans won't do what he says. This sounds like a perfectly fair complaint don't you think? Well maybe not but needless to say he has a super powerful attitude in Teen Titans Go! and learning how to draw Robin and capture that attitude was really fun! Robin also has to deal with the puppy love that comes from Starfire and she fights for his attention. Let's check out how I did.

Word of warning that I noticed after this video that I was just slightly off model when I drew Robin and his black eye mask should actually join in the middle between his eyes. As long as you remember that when you're doing your drawing of Robin it should turn out perfectly fantabulous.
How To Draw Raven Teen Titans Go!
"Raven is the sarcastic, deadpan half demon girl who'd rather be left alone." I don't think we can be harsh on Raven as I think we all like to be left alone but I won't go so far as to call my amazing viewers sarcastic or a deadpan, I love you guys! Raven's telekinetic powers allow her to move objects with her mind and her powers are based on her emotions. I love the style and colors of Raven so let's see how I captured that in my video.
How To Draw Cyborg Teen Titans Go!
"Cyborg is a laid-back, half-teen, half-robot who's more interested in pizza and video games than in fighting crime." Wow, it's like I just described myself, exact I'm not a teen anymore, and that's exactly why it's so easy to love Cyborg. I think every guy can see a little of themselves in this big guy. I'd have to say out of all the How To Draw Teen Titan Go videos that I created I think my favorite would be Cyborg!
How To Draw Starfire Teen Titans Go!
Starfire is an alien princess from the planet Tamaran. She struggles to fit in with the ways of Earth and is constantly annoying Robin with her puppy love and attention. Girls, eewwww yuck, or Aliens in the case of Starfire, although we all know that Robin is fighting for her attention! Here pet is the awesome little Silkie which I'm yet to draw but probably will do so sometime in the future for some more Teen Titan fun! Let's see how I did with Starfire!
How To Draw Beast Boy Teen Titans Go!
Last but not least in my how to draw Teen Titans Go series is the awesome green machine called Beast Boy. Beast Boy is Cyborg's best bud- a slightly dim but lovable loafer who transforms into all sorts of animals when he's not eating burritos and watching TV. I would say that some mother's might give the same description of their sons that's not the point. Who wouldn't want to shape shift like Beast Boy and I hope one day I might be able to capture a creature half beast boy piece artwork, so look out for that.
You've Mastered How To Draw Teen Titans Go!
There you have it, you can now consider yourself a master of drawing the Teen Titans and should wow and bedazzle your friends with how well you can do it. If you want me to do more how to draw videos, of if you have any questions, then feel free to shout it out below and I'll be sure to get that done for you.
Finally if you like this post then make sure you share it with your friends and if you're a frequent user of YouTube hit the subscribe button and make sure you don't miss out on the fun! Go! Go! GO! It's time for me to GO!