What Is Drawsome!?
Drawsome stands for "Let's Draw Something Awesome (Together). As an aspiring artist I'm on a steep learning curve to reach the level I need to be. I realize that the single biggest factor that will help me improve, is Practice! Sometimes practice isn't the most enjoyable activity as it can take hours upon hours of time consuming repetition, which will be the kind of practice you'll need, to take your art seriously.
That's exactly where Drawsome! comes in and if you have to practice why not do it in the most kick ass, fun and inspiring environment you can surrounded by heaps of mind blowing artists! Drawsome! is all about ensuring you find the time each month to practice your artwork.
Each month I call out for suggestions for a theme to draw in for the month. A theme could be anything from animated movie characters, favorite cartoons as a child or maybe even video game characters. The simple fact is that there is no limit to the themes you can suggest. It's totally up to you and your wild imagination to pick a theme that is going to be fun for everyone to draw in.
Once I have all of the theme suggestions I tally them up and put them to a Vote-Off. The community votes and selects the best theme. After the theme is chosen it's as simple as selected your favorite character  from that theme and drawing it! It's that easy.
Video Overview
If you're still confused, don't worry, I've created this fantastic video which can explain it to you over and over again until it makes sense. If you're still confused however then don't be afraid to sing out in the comments below or sign up for the Community and have someone answer your questions.
Great Prizes To Win!
2014 will be an amazing year for ToonsAnimeManga and it's the first time that Drawsome! will have prizes available for those that enter. Now, I know what you're thinking! How can you compete and win prizes when there are so many talented artists in this world?
This is the exact question I asked myself and I wanted to make sure that everyone that enters Drawsome! has a chance to win prizes. See the section below for exactly how you do that.
In the mean time what are these great prizes that I speak of? Well let me show you. This month I'll be offering four books to one winner. After the winner is selected at the end of the month they"ll be able to select 1 of the 4 books as their prize. This means that you get a prize that you're going to love, enjoy and hopefully will help you improve any areas that you're struggling with.
Books are from the amazing Mark Crilley, the awesomely fabulous Christopher Hart and finally the super humanly talented Freddie E Williams. I don't think you'll have any trouble finding something you love from these, don't you agree?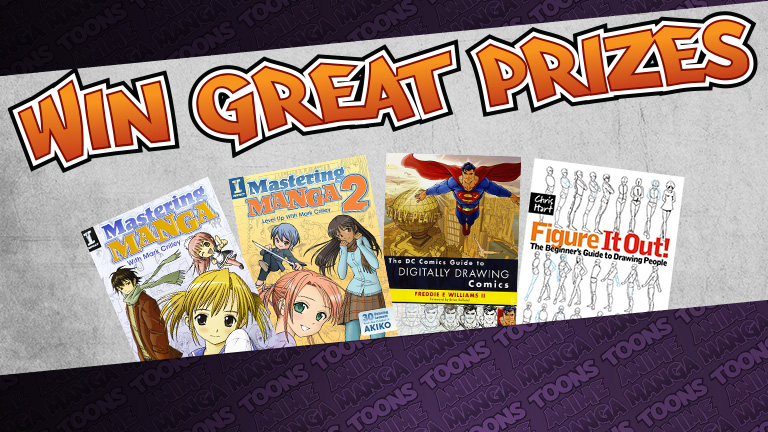 How Do You Win?
This is a great question and I'm going to tell you exactly how you can do that! I needed to make it fair, so that everybody had a chance of winning, and it didn't matter what level of experience you had with your artwork. It's simple, everybody that enters Drawsome! HAS to have a chance of winning!
So this is the criteria that I came up with for the person that will win Drawsome! each month.
You must comment on blog posts as much as possible, the more comments the better your chance of winning
You must comment on YouTube videos as much as possible, again the more comments the better your chance of winning
You'll need to sign up for the Community forums and post critiques, questions and comments, the more you do the better your chance of winner
Finally all you need to do is submit your artwork for Drawsome! at the end of the month. This is done within the community forums too!
So there you have it, it's really very simple and as you can see, everybody has the chance to win!
Drawsome So Far