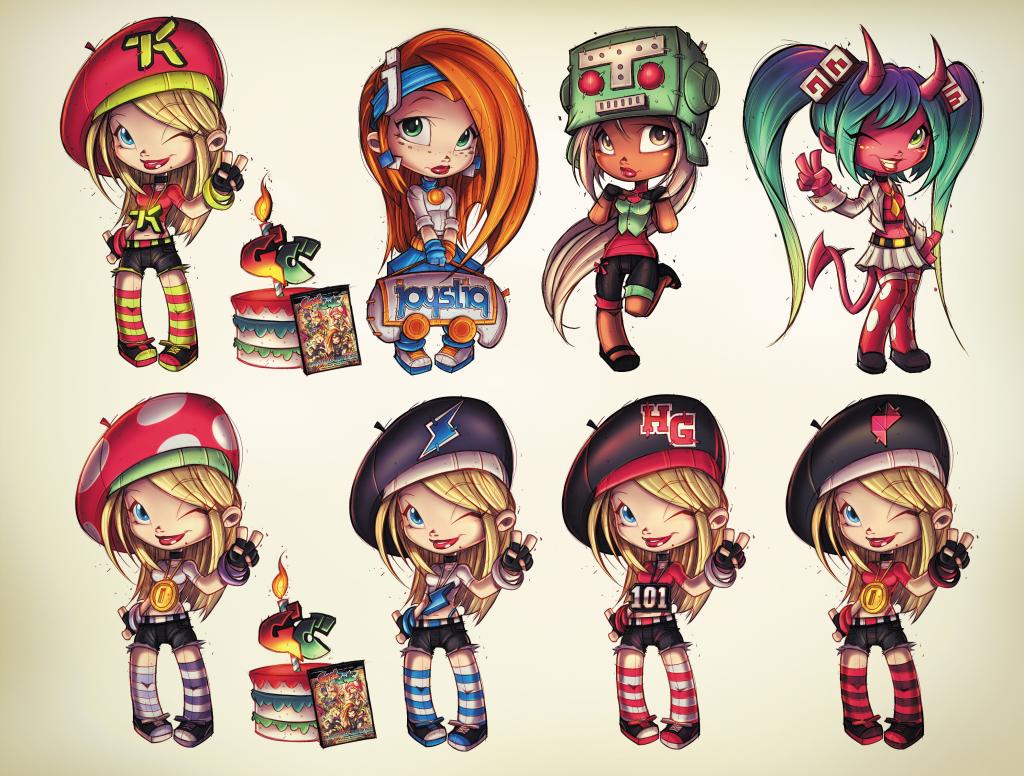 One of the areas I wanted to focus on with this site is interviewing and featuring professional artists that we can appreciate and aspire towards with the hope of one day achieving a similar output to what they do. Although I look at these artists with jealousy I find they tend to set my soul and passion on fire and force me to push myself harder to be the artist that I'd someday like to be.
I've fallen in love with Kickstarter.com of late to which is a site that was built around crowd-funding. If you're not aware of crowd funding it basically means that a project is launched, with a number of pledge options, that allow users to give an amount of money as a backer in return for something. The something is usually the product that is up for kick starting with other goodies thrown in to make it worthwhile for everyone. It's amazing how many people get behind projects and back them through to success. It's a fantastic resource for artists and more because now everybody has an ability to get their work published into households around the world without requiring a big name publisher to say yes first.
As Rob describes in the video below he put his ideas forward countless times receiving knock back after knock back. How is this even possible with his graphic style and ability to differentiate himself for the rest? I find it disappointing in today's world that their is greater desire for clones of something successful that we've forgotten how to embrace individuality and find the new big thing. Kickstarter allows us to change that though.
When I stumbled upon Game Cave today I couldn't take my eyes off the screen. The art work was so colorful, vibrant and fun I felt happiness just looking at the amazing content. Not only did it have amazing art work it was the whole concept of the project. Rob describes the project as the following
Game Cave is a DRM free digital PDF and physical print set, melding classic gaming and comic publications with internet humor. Our first issue focuses on fighting games – everything from classic world warriors to indie fighters. And there's art! All non-screenshot assets are handcrafted by Rob. No pre-rendered characters, no PR driven generics, no review scores. Just a collection of gaming's best titles, plushies, and original characters. Because gaming is art.
I've always loved games growing up and in my younger years I really wanted to be part of the game industry. It's safe to say as I've aged that love for games hasn't diminished, in any way, but unfortunately my career never ventured into roles within the gaming industry (I'm still young, a middle aged man can dream).  The fact that Game Cave was going to combine two of my biggest passions in gaming and art I felt this project couldn't have anything but a successful future ahead of it.
I want to spend more time on Rob Duenas as an artist but I feel this needs a completely new post to focus in on all that he offers to aspiring artists like ourselves. I'm going to save that for another day but in the mean time feel free to do some research into Sketchcraft.com and in particular the podcast series that Rob does for the community. I've literally only started listening to the first podcast that he completed back in 2011 but I'm finding it really interesting and some tips and tricks for a young artist like myself and hopefully the others that visit this site.
As a community it's so important that we get behind these projects and if you love what you've seen then I encourage you to get over to Kickstarter and back Game Cave. It feels good knowing that you've helped someone achieve their dreams. This is now my fourth project that I've backed on Kickstarter and I'll continue to do so for anything that excites me like this.
In the future I hope to spend some time drawing some of the Game Cave characters as method for developing new styles and techniques. Although they won't be to the standard that Rob's drawings are its a step in the right direction and a good influence to have.
Help Out Game Cave Today