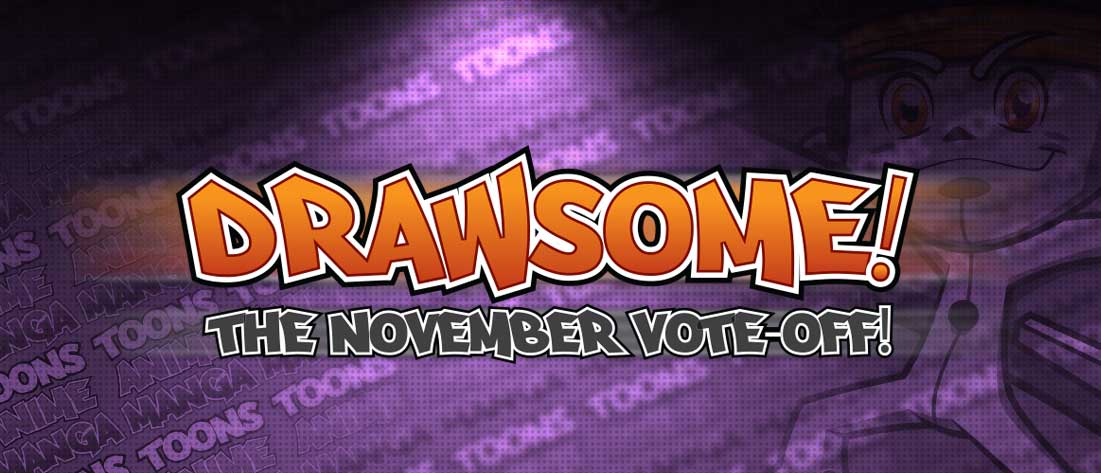 Firstly, I wanted to say a big THANK YOU to my Facebook friends for the awesome response you guys gave me for Drawsome! To see such energy and excitement for Drawsome! was really inspiring and I can't wait to see what everyone chooses for Novembers theme. The funny thing is that I've been really busy again so I'm actually just as excited to get started because it means that I'll be able to sit down and give myself some time to draw too!
We had some really great suggestions on the Facebook page and I encourage everyone to make sure that you're involved with it for Decembers theme suggestions too. If your theme suggestion isn't the winner for this month then don't worry, you can suggest it again for next month and continue to do so until it's selected. The great thing is that some of the themes we've already spoken about on Facebook are quite broad so you have some flexibility in terms of the character your draw.
Drawsome! is all about practicing your skills within an awesome community and drawing something that interests YOU!
If you didn't get a chance to enter in your suggestion for this month then make sure you stick around and get in your suggestions for next month. Drawsome! will be going throughout the year so there is plenty of opportunity hear your ideas and trust me, we'd love to hear what they are.
So what are we waiting for let's dive in and get voting! I want to get started on this as soon as we all can.
The Vote-OFF
The Community!
I'm really EXCITED again guys! I know, I know it seems like only yesterday that I was excited about Drawsome! but I have something new for you guys again! I wanted to also introduce to you the new Community feature that is currently in development on ToonsAnimeManga.com. You can access here or through the menu bar at the top of the page.
The Community is a group of forums that I hope will become really active over the next 12 months. It's going to take some time for the real activity to start to flow, within these forums, so make sure you keep checking back and if you've got any burning questions to ask then this is the place to do it. In terms of the Community this is going to be an awesome place for all the ToonsAnimeManga.com visitors to meet each other, share your skills, learn something new but most importantly be inspired to continue with your drawing.
If you're struggling with Photoshop or any of the other tools or maybe you're having a hard time with particular anatomy or perspective then just put your questions into the appropriate forum and we'll make sure you find an answer. No doubt your skills will Level Up! as soon as you have the answers that you need.
You will need to register to become a member of the community but don't worry it takes less than five minutes (if that) and you'll be up and running in no time at all. In the future being a member will also give you a number of other cool features but for now let's just focus on the Community.
The Community feature is only new so if you find any hiccups make sure you reach out to me and let me know any troubles you're having so that I can sort them out ASAP. It's really important to me that everything works for you guys and you can focus on having fun when you here. So please let me know if you find any bugs or troubles.
So that's all I have for now guys. I've got plenty of more blog posts in the pipeline so make sure you keep checking back as I aim to have something new for you each week. In the meantime make sure you don't miss out on future posts, Drawsome! Vote-Offs or anything else we speak about on here by signing up to the ToonsAnimeManga.com club below!
Thanks again guys, now GET VOTING!
[hero heading="Don't Miss Out On The Fun" tagline=" Get your Free Ultimate Cartoon Starter Kit and never miss a Blog post again."][modal heading="Join ToonsAnimeManga (It's Free)" text="I Want IT!" size="btn-large" variation="btn-danger"][/modal][/hero]