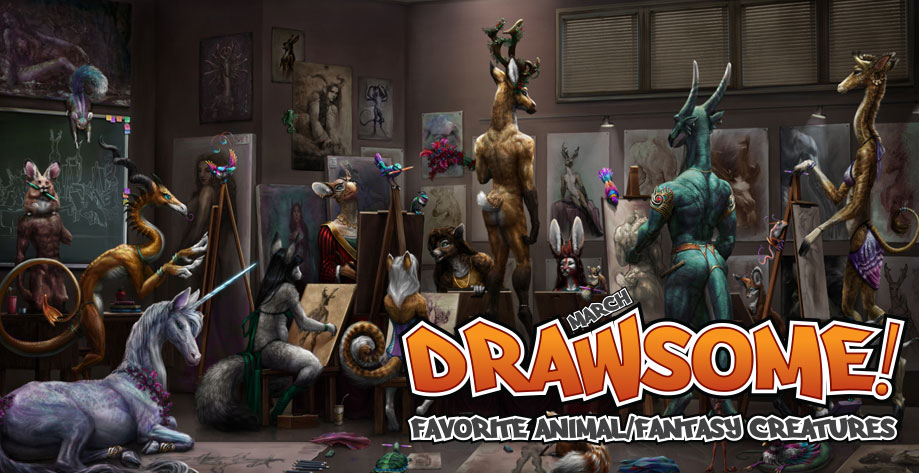 Drawsome! March brought us the theme of Favorite Animal / Fantasy Creature which is a really exciting to work with. It's aimed at pushing the creativity of our participants this month and seeing what colourful creations we could come up with.
Once again the support for Drawsome! has been awesome and I thank you all for participating. The returning participants that submit their artwork each month simply blows me away and I can't wait to get more and more as we go.
This month however was the first month that I've been unable to find the time to create my Drawsome! The reasons for this was because I've been moving house, travelling over 4000km and have once again been staying in places where it's been difficult to access my art supplies and digital Wacom. I do apologise for this and I aim to be fully back up and running for next month.
Also delayed are the results for Aprils vote-off so I'm hoping to find time to notify you all of the winning theme for April so we can all get started on more awesome artwork.
So let's take a look at the Drawsome! results for March
The Results
And The Winner Is?
Once again we've got another winner to announce and this is now the third straight month we've given away a prize to a lucky participant. As mentioned we'll be giving away prizes for the rest of the year and based on the participation I hope to up the prizes whenever we have some greater numbers.
I'm currently trying to organise a competition with a well known artist on YouTube so stay posted and I'll try to get this across the line for everyone. In order to do things such as this we may need to find higher numbers before I can gather more support from bigger artists so please keep spreading the word and we'll bring more fun your way soon.